Welcome to Lyon !
Lyon, France is a French city where you will be happy to live, work, study, or wander...
1

Accommodation
What solution for your accommodation in Lyon ? When you arrive in a city, it is not always easy to...
2

Relocation / Mobility
LYON EXPAT SERVICES is a relocation Agency working in Lyon and area  in the field of national and...
3
Post of the month
Lyon Expat has introduced a new, reasonably priced housing option. This new temporary housing facility is similar to a hostel and opened its doors this summer in Lyon, France
read more
Post of the month archive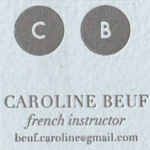 Monthly partner
After years of teaching French abroad, Caroline Beuf is back in her home country, traveling between Lyon and Beaujolais. Besides […]
Discover this partner
Plus d'infos

Events archive

Sunday, November 30,2014 at 4 p.m.

Every Tuesday and Thursday
Plus d'infos

Favourite news archive

September - October - November